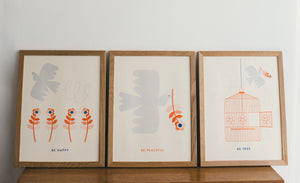 Riso Print - Be Happy, Be Peaceful, Be Free
Sale price Price €90,00 Regular price Unit price / per
These riso prints are inspired by the "Loving-Kindness" meditation, which offers well wishes to you and different people in your life.
Find a quiet spot where you feel relaxed. Close your eyes. Take a deep breath - Inhale through your nose and exhale through your mouth.
Repeat the following phrases to yourself:
May I Be Happy. May I be Peaceful. May I be Free.
Feel the warmth and compassion for a few moments. Extend these feelings to people in your life and to everyone in the world. 
May You Be Happy. May You Be Peaceful. May You Be Free.
2 colour A3 riso print - Blue and Orange
Size: 297mm x 410mm
Printed on Recycled paper using soy-based eco friendly ink.

Unframed with signature stamp on bottom right corner.

1 print - €40 (includes Postage).
Special Offer when buying all 3 prints - €90 (includes Postage).